Textbook Inventory Management Software – TIPWeb-IM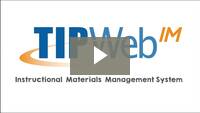 TIPWeb-IM is a textbook management system built to manage your blended learning environment resources. Designed to satisfy the procedural needs of both the district and campus levels, TIPWeb-IM is a complete inventory control solution. The TIPWeb-IM software helps district and school administrators ensure communication, accountability, and availability of instructional resources like textbooks, resource kits, and digital licenses.
The TIPWeb-IM textbook management software provides real-time information for a complete district-wide picture of what you own, where it is, and where it needs to be. Give instructional material managers control over automating textbook inventory from the district office to the school, and even down to the student and teacher.
Campus Preparedness for Student Success
The core focus of print and digital resource management is to insure that every student in the district has the adopted instructional materials available to them. This requires more than ordering the correct number of textbooks. With TIPWeb-IM, textbook managers can make sure not only books, but supplementary materials and digital resources are purchased and available to teachers and students when they need them. Communities set high expectations of Districts and schools to provide these materials, and with TIPWeb-IM you can confidently report that students and teachers have the materials they need for success.
Warehouse Style Textbook Management
Unlike other solutions, TIPWeb-IM's centralized, dual-barcode system cuts down on inefficiencies in textbook management to save districts time and money. Instructional Materials are distributed, collected, inventoried, transferred, and ordered unlike any other material utilized by schools, thus a unique system is needed. TIPWeb-IM delivers upon this need with an efficient and streamline process, allowing for greater efficiencies and cost savings.
Read more about our Dual-Barcode Method
Consolidate Costs through Improved Accountability
Utilizing TIPWeb-IM alongside Hayes Software recommended best practices, your school can reduce losses and recover textbook replacement funds from students and parents. Through controlling inventory losses and facilitating campus to campus transfers of textbooks, you can reallocate thousands of dollars from yearly budgets set aside for replacing lost materials and fulfilling inventory shortages.
Chesterfield County Public Schools
TIPWeb-IM purchased in 2008
65 sites
58,764 students
Vision
Chesterfield County Public Schools wanted an automated solution that would centralize data for all schools to track their textbook inventory with district oversight. They wanted a tool that would easily give them reporting of how many books were at each campus and how many books were in each classroom. The district office also utilized a warehouse for processing new orders but didn't have a way to report on what excess inventory was on campus shelves;
Solution
The selection of TIPWeb-IM has changed the visibility of inventory data across the district. In using TIPWeb-IM as a solution, the district office can now run reports to show how many books by title are at each campus, the status of that inventory, and what is in their warehouse. They can also track books by teacher within each campus. This allows for more accurate inventory counts, and a more effective way to complete audits.
---
Northside Independent School District
TIPWeb-IM Purchased in 2007
90 Sites
89,000 Students
Vision
Northside ISD used a site-based program at the campuses. They needed a better way to reduce the time and resource demands of a non-centralized system. Campuses were asking for a solution to help them stay organized.
Solution
TIPWeb-IM replaced disparate databases, allowed real-time access at the sites, and consolidated the ordering process reducing the time campus personnel spent on textbook duties. TIPWeb-IM answered the call of campus personnel with an additional benefit of allowing campus-owned items to be managed in a separate area. TIPWeb-IM's flexibility improved compliance, and campus user buy-in resulting in reduced textbook losses across the district.
---
Houston ISD
TIPWeb-IM purchased in 2006
300 school sites
201,000 students
Vision
Houston ISD used a site-based program at the campuses and the district office. They needed a better way to reduce the time and resource demands of a non-centralized system. Campuses were asking for a solution to help them assign books to students and staff. Warehouse was asking for a solution to help them manage the process and automate the procedures of shipping and fulfillment.
Solution
TIPWeb-IM offered centralized, real-time inventory access to the district and schools and reduced the time campus personnel spent on textbook tasks. TIPWeb-IM exceeded the expectations of campus personnel with an additional benefit of allowing local-owned items to be managed without altering district reporting. Additionally, during the project, Houston ISD lost their district textbook coordinator. Hayes Software Systems filled in with a temporary textbook coordinator from our staff for a period of 6 months on a consultation basis while the position was filled. As textbook coordinator, our consultant filled the role for order processing, shipping and fulfillment from the warehouse, training of
---
San Antonio Independent School District
TIPWeb-IM purchased in 2011
92 school sites
55,000 students
Vision
San Antonio ISD wanted to centralize control of textbooks, prevent over-ordering and correct large losses at the secondary sites. They also needed to update older tracking systems at multiple sites. As a large, urban district they need to improve their business process and workflow between the central warehouse and campus sites.
Solution
San Antonio ISD chose TIPWeb-IM for their instructional material management solution. TIPWeb-IM provides integrated ordering, inventory management, and true warehouse functionality which was implemented to allow the district to easily fulfill orders from the warehouse or transfer books from existing campuses. District textbook personnel using TIPWeb-IM are able to support campuses, proactively reducing the expenditures associated with over ordering.
Assess a Charge
Assess Student Charges with Ease
The TIPWeb Textbook Management System allows schools to account for damaged or lost books and supply notices of fines for distribution to students. The system generates a notification form letter designed to be sent to a student's parent or guardian, saving time and making sure fees get returned to the bottom line. Track the change in status of a book issued to a student or teacher to make sure lost or destroyed books are no longer being accounted for in the system.
Find a Book
Easily Reunite a Lost Book with Its Owner
TIPWeb's Find-a-Book feature allows you to research instructional material distributions. Did a bus driver find a textbook in the back of their bus? Quickly identify and return the book to its owner, from any computer within the school, to make sure students don't have an opportunity to miss assignments due to a lost book.
Quick Entry

Save Time Getting Materials in the Hands of Students
The TIPWeb Textbook Management System has check-in and check-out functionality for the school version, which associates students to textbooks and/or teachers. Quick Entry simplifies the data entry process by allowing you to use your connected scanner to distribute and collect instructional materials directly into TIPWeb-IM through a scanning process. You can collect by accession, assign items to students, and assign items to teachers with ease!
View Switching
See What Your Campuses See
Let your district office view exactly what individual campuses see without logging in and out of the application. Save time while looking at campus specific reports: drill down to individual campuses to address issues with ease. Is your campus textbook management staff having problems? See exactly what they are seeing to resolve the issue in a fraction of the time.

Customized Solutions Designed for Your Inventory, Administrative, and Budgetary Needs
Configuration & Implementation Options:
District-Wide Inventory Management and Bar Code Automation at All Sites
District-Wide Inventory Management at All Sites with Bar Code Automation at Secondary Sites
District-Wide Inventory Management at All Sites (without Bar Code Automation)
Inventory Management Only at Secondary Sites (without Bar Code Automation)
Single-Site Inventory Management and Bar Code Automation
Integration Options:
Student Management System
Purchasing System
Active Directory/LDAP/SSO
Installation & Updates:
All performed remotely by Hayes as part of a yearly maintenance agreement
Hosting Choices:
Hayes-Hosted
District-Hosted
Training Choices:
"Train-the-Trainer" - District Instructor Training
On-site District View and Campus View
Webcast District View and Campus View
At Hayes Software Systems, our number one goal is to help you be successful. Our consultants pull from expertise to help you realize your goals.
Our consulting services are for school districts of all shapes and sizes, from new customers just starting out, to current customers who are looking to do business more efficiently or move in a new direction and even districts that don't own our products that just want to utilize our experience.
Program Discovery and Development
Customized Policy and Procedure Guide
Inventory Coordinator Orientation
School Performance Improvement Plan Development
Inventory Process Assessment
Procurement Process Planning
Distribution and Collection Process Planning
Warehouse Consulting and Setup
Barcode Labeling
Contract Staffing
Physical Inventory
Distribution and Collection